So along came the holidays yet again. I LOVE Christmas. Seriously, I want to just stay home and roll around in it all. I am usually the first one getting all of the decorations out, making Cliff smell everything we own that smells like cinnamon (because evidently in my head this is what Christmas smells like), cut out snowflakes, hope for snow, drive around like a crazy lady looking at lights.... well, you get the idea.
This year, this year was different. I wasn't feeling it. It was HOT here for December...as in in the 60's and 70's for one thing which completely throws off my holiday chi. I need freeze your nose off cold and no sun for a month to REALLY get in that holiday spirit. hahaha Then there was the whole "I just had a baby and I have absolutely no idea what time it is much less what month I'm in" thing going on. So I wasn't "all in" at Christmas this year to begin with.
All of that brings me to the "Past" part of this post. Stay with me, we are going way back here. I grew up with dogs. Never had a cat, was actually kind of freaked out by them....like they knew something I didn't. (turns out they do by the way) I went off to college, moved off campus and decided I missed having a pet. I was a big girl now and wanted to start my own little first family. First families are pets and sometimes a boyfriend in case you weren't aware. Felix was the animal who crawled into my heartstrings and got all tangled up. He was in a home that couldn't really care for him, he was small and the last of a litter and I SWEAR he said "take me home and love me forever and ever" the first time I picked him up. He was not so scary and didn't freak me out at all and he was the teeniest thing that had ever needed me. I took him home and loved him up. Fast forward to this year. He started to look a bit shabby and unkept which was very unlike my OCD cat. Then he began to lose weight. Then all of a sudden he just looked terrible. Literally overnight. He went from kind of looking like he was going downhill to "holy cow, how is he holding on". He was stumbling around and wouldn't eat....and I knew it was time to put on my big girl panties and do what I needed to do. On December 23rd we found out he had been suffering from kidney disease which is always fatal. He was in the VERY end stages of it. It was time for me to love him enough to let him go....and it totally sucked. I took him to the vet alone, told him everything I wanted to, then held and hugged him as he passed into sleep then away forever. It was pretty much a horrific experience and one I hope I never have to do again (although I know better since he was one of three kitties in our house). I came home to life as normal only my brain was stuck in that horrid moment when I knew he was gone. I have this terrible need to relive things in my head that are hard to deal with until my brain kind of desensitizes to it. It may seem like I am being dramatic or closed off but my brain doesn't care what it makes me come across looking like...it kind of has a mind of it's own. (buddum bum ching) This took about 5 days with Felix. Over and over and over it played out in my head, in my dreams and in my heart. Christmas fell 2 days into this process....and I feel like I wasn't really all there. I had a great time don't get me wrong. I mean, it WAS Christmas after all. How bad could it really be? But I just wasn't all there and I feel kind of bad about it. Next year we shall rock it out loud, but this year....I just needed to miss my cat.
Ok, mop up the tears and onto the Presents! I mean, present. ;)
Even in the funk I cannot deny how much I love this season. My girlies are both at an age where they really know what is going on and anticipate. Their eyes lit up with each passing house that was all decorated and twinkly. Their little bodies quivered with excitement as we decorated the tree. Note to self: LED lights suck. Blue and purple? Really? C'mon people! Holiday lights should be red, orange, yellow, and green. How did you miss this memo!? Case in point...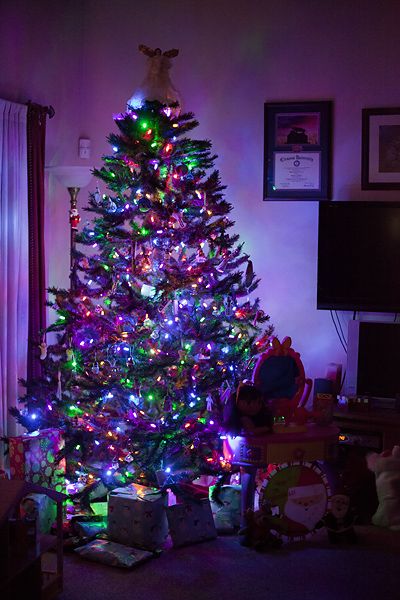 As my friend Kristi pointed out "LED lights make it look like a disco ball" (referring to her house but it applies here as well). Kind of misses the mark on warm and fuzzy.
Christmas in our house starts on Christmas eve with my parents. We do gifts for the kids, have an awesome meal (this year it was prime rib...droooool) then after the kids go to bed we do a nice and relaxing evening of opening gifts and enjoying dessert and coffee. It's a bit sinful really.
My mom has literally been chomping at the bit to buy the girls a dollhouse pretty much since we found out Natalie was a girl. Each year they just didn't quite seem ready...until this year. Oh.My.Gosh. The hours they have played with this! It tandems as a gift for mommy too. haha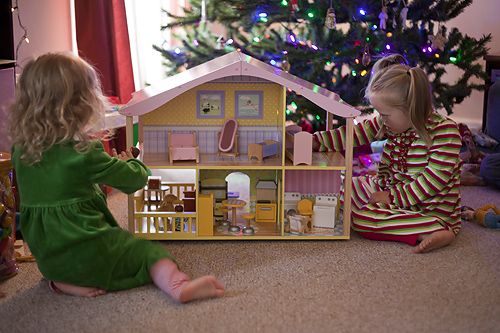 Seriously, don't you just want to shove them out of the way and play?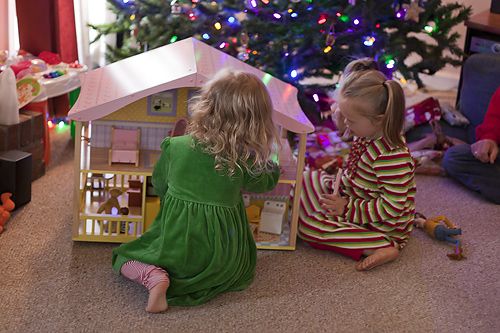 I just love how into it all she is.

Real men....
Natalie is our big uncertainty at the holidays. Will she understand? Will it be too overwhelming? Overstimulating? Will she even care? Well, I am here to say that my girl has arrived. Since going gluten free she is like a different child. I know I have said it before but OMG she is seriously so different! She LOVED it all this year. She opened all of her own gifts and got excited by the contents. Last year she meandered off before we were even finished...this year? This year she opened some of Bennett's when hers were finished. Why hello big girl! Welcome <3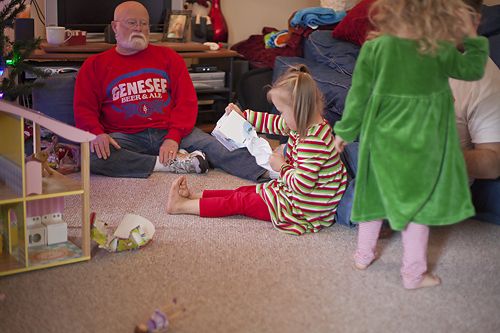 Next up? Christmas morning of course! With it we saw faces like this: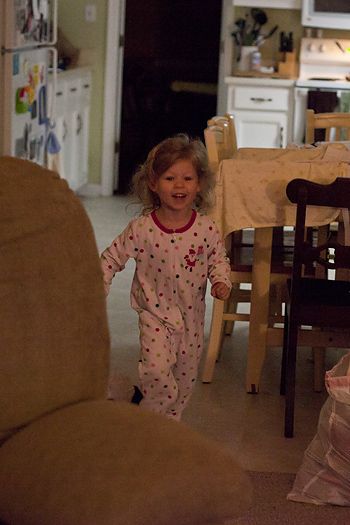 ..and excitement like this: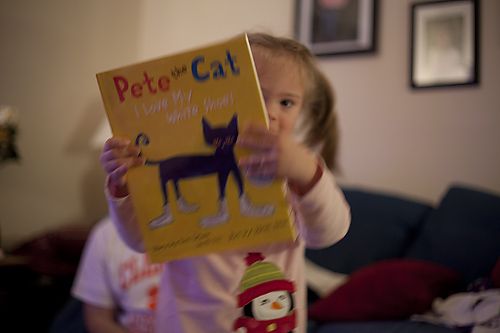 If you know us at all then you have heard of the famous "Pete the Cat". She got two books and the stuffed animal and her face was priceless! You would have been able to see it if she weren't holding the book in front of herself saying "PETE THE CAT!" aaaah...love me some excited big girlness.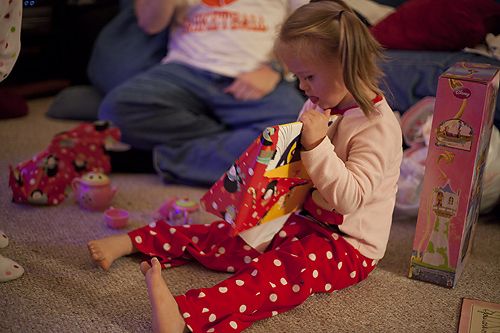 Then there was this next moment. My girl asked and asked for a Tangled Tower. I had just happened to have already bought one...before she started asking. Why yes, I really am that good. ;) It must be a genetic super power because my parents do the same thing with me every year. She opened it up and yelled "IT'S A TANGLED TOWER!" With the magical wonder and excitement that only a child can have at Christmas.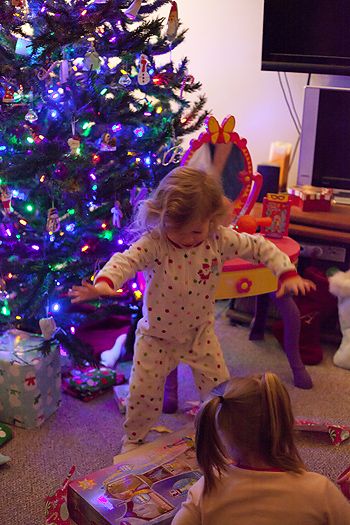 Then she proceeded to lay on it so Natalie couldn't touch it.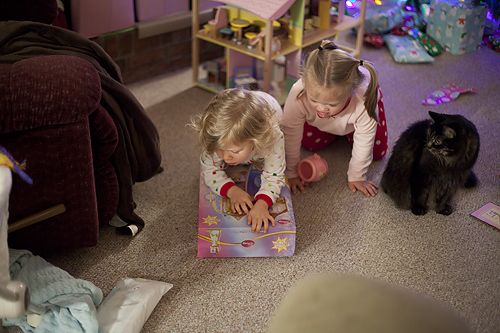 Have I mentioned lately how much I love the 3's? No? hmmmm interesting. Even Gary looks offended.
The rest of the morning was a blur of this: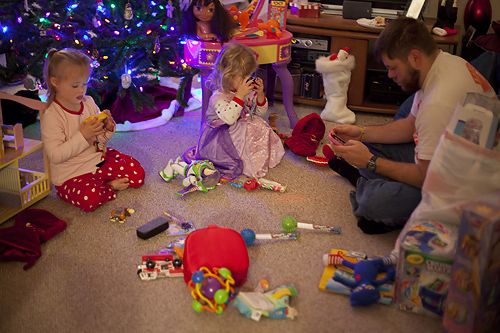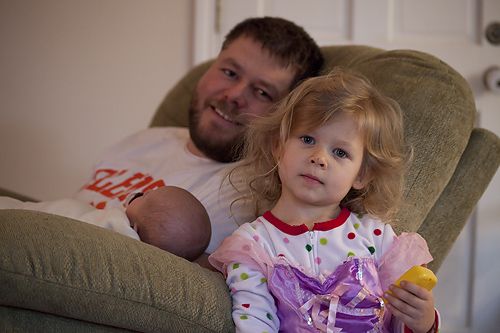 Don't worry, I didn't forget about it being Bennett's first Christmas. As soon as he woke up (cause he loves us and sleeps in) I got some of him hamming it up.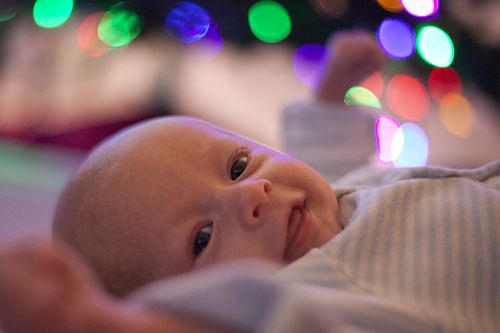 Don't you just want to eat his cheeks off? ME TOO!
We always spend Christmas day home with just the five of us then get up and out of the house bright and early on the 26th and head to see Cliff's family. Bennett was a champion and made the entire trip without a tear or needing to stop. LOVE HIM! Alyssa spent the entire trip telling us who we were going to see, how we were all related and how excited she was. :)
We got there, said hello and passed around some hugs. Ever since the beach Natalie has taken a shine to her Uncle Darren. It's kind of the cutest thing ever.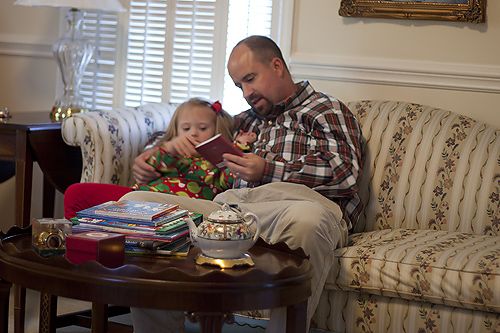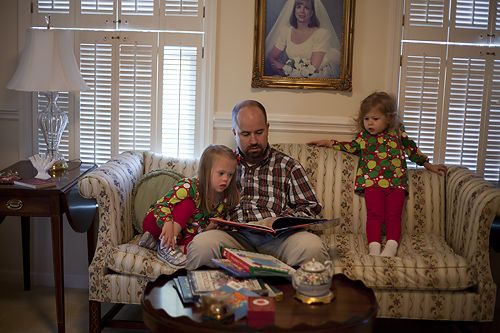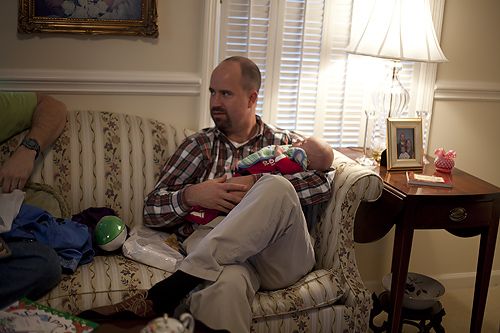 Bennett got in on that action too.
After all of the hello's it was time to get down to business. haha PRESENTS!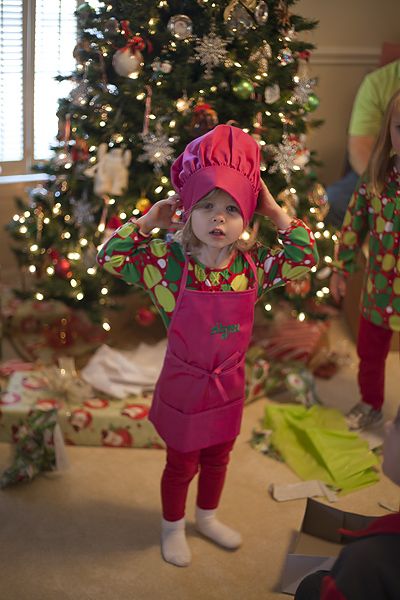 Cliff's sister Tay got both of the girls a set like this with their names on them. SO CUTE!!!!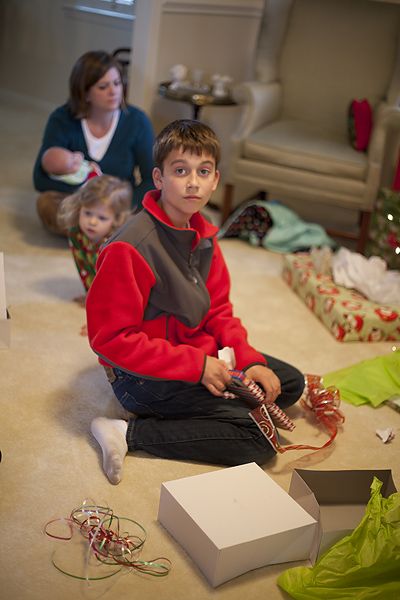 I managed to snag one picture of Allen. He is at the "I hate getting my picture taken" stage. I take what I can get.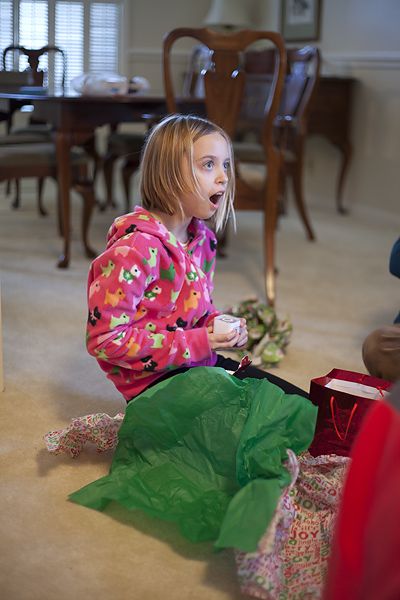 Seriously, is there anything better than this expression on a kids face at Christmas?! I think not!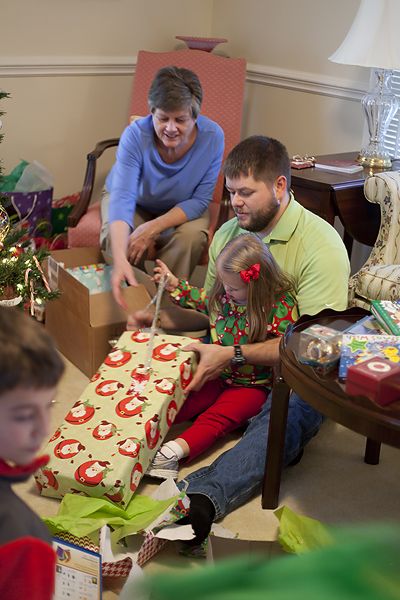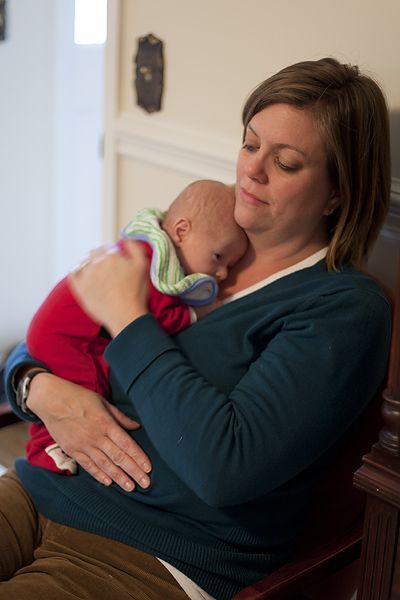 Sara is SO into babies and baby dolls so when we showed up with Bennett and she got to hold him....well....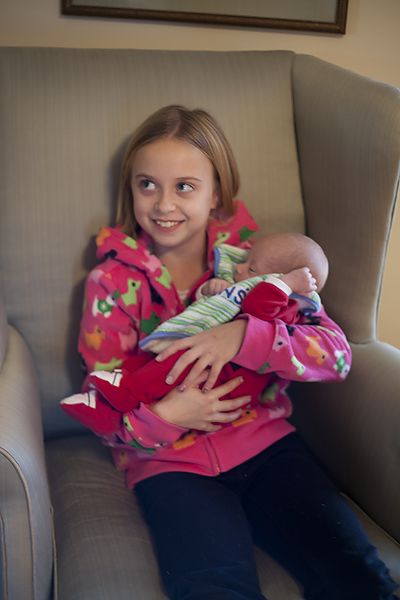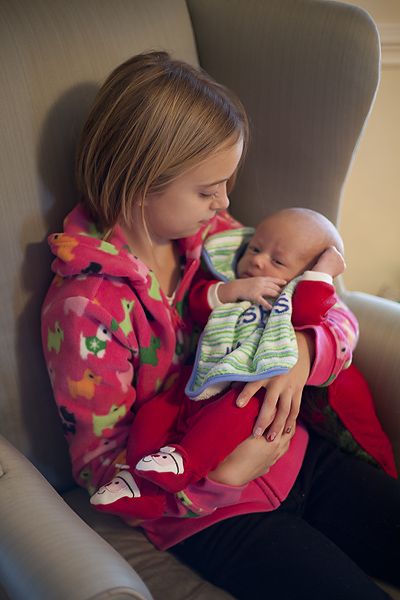 Let's just say he gave her perma grin. Cousins are good like that.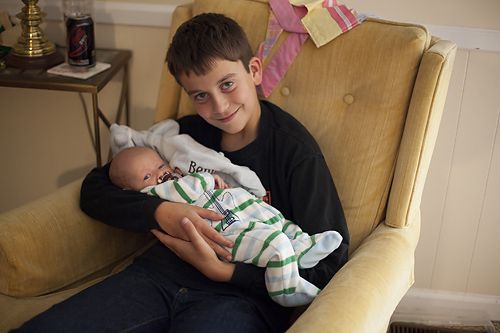 I wish they lived closer so my kids could have Sara babysit. I don't think Alyssa would let me come home if that ever happened. hahaha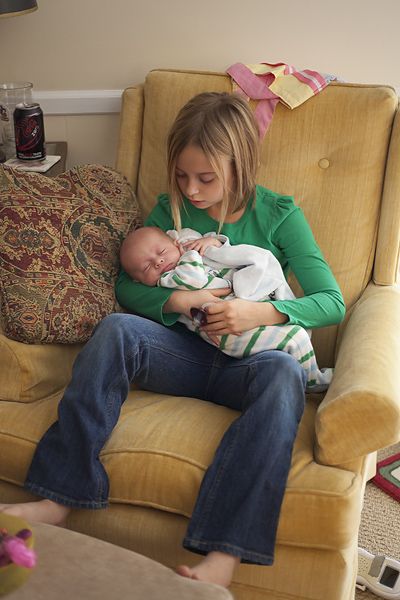 Does anyone else totally LOVE that they match in this picture? Did you just look back at the picture to see if I was right?
Natalie might not either...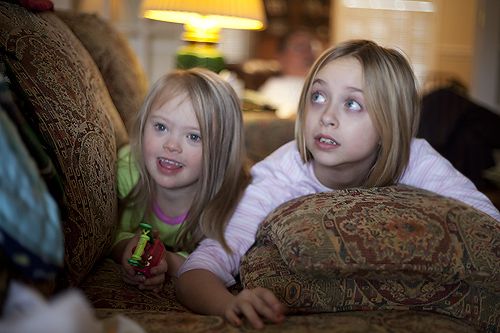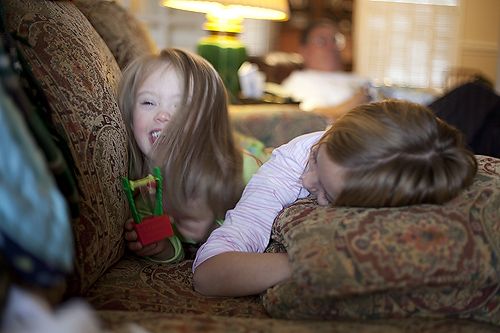 Then you have the grandparent factor. There are only 3 little girls in the whole world who can worm their way into that chair with Dodaddy....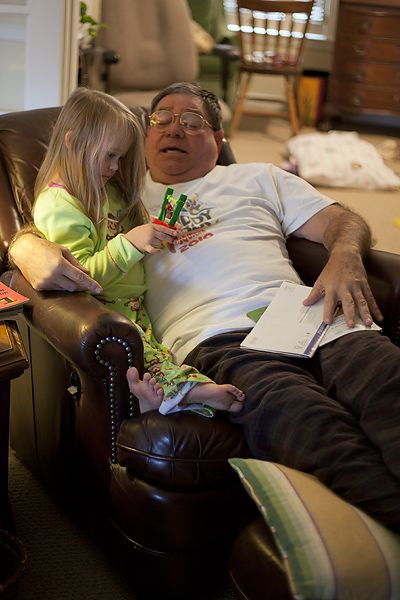 It's kind of a super power. ;)
There is nothing quite as fun as watching all of the kids together. I love how the older ones have learned to play with the littles and how the littles have learned how to idolize the biggies. So fun all around!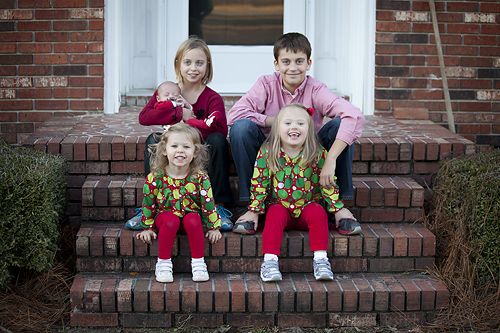 Overall I would say that Christmas was a gigantic success. Bennett was beside himself with excitement...
...and doctors Natalie and Alyssa are still loving all of the presents and memories. (I know because Alyssa is still reiterating it all haha)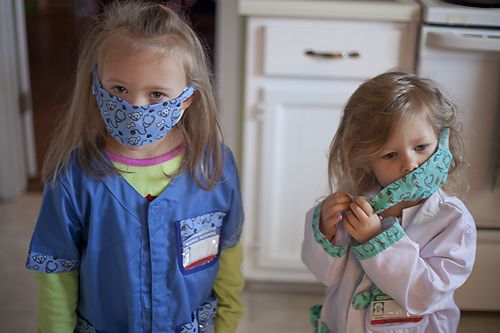 I hope that you all had wonderful holidays too! Now back to our regularly scheduled lives.