YAY for June!!! June for us means going to the beach with Cliff's family. We all stay in this huge house right on the beach...as in, I walk 10 steps and I am lounging on the beach like a whale. WOOT!
This year was a bit more stress than usual as we began to go gluten free for Natalie...while ON VACATION. (see previous post) Her bowels weren't quite back to normal yet so that made for a few fun times. We were stressed about her looking so sickly, and we got there a day late which threw off our vacation chi. breath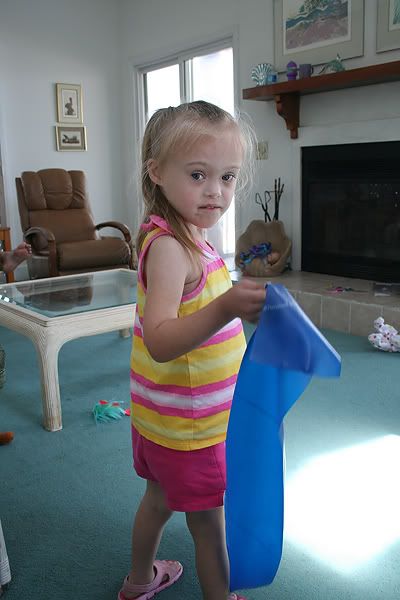 Once we were there and settled though we kind of fell into a rhythm of island life. aaaaah deep breath. We spent WAY more time indoors than we had planned but we still managed to have a great time. Just having Cliff around all day is a vacation in and of itself no matter where we are. It is always so awesome to be able to spend the whole week with his family without the craziness of the holidays. Just beach time, cousins, aunts, uncles, grandparents, good food, giggles, hugs and fun.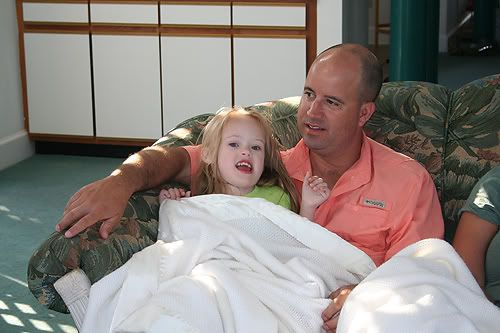 It only took 5 years but Natalie finally crawled up into her Uncle Darren's lap for a cuddle.
The beach was an adventure all by itself this year. I had pictured long days in the sun with lots of swimming and sand castle making. The reality was that Alyssa was terrified of the crashing waves since she ran out there like a sprung monkey and fell into the waves without her floaties on and FREAKED. She wouldn't even try until the last day (of course right?)
We did enjoy some nice walks together and she was happy swimming if I carried her past the crashing part of the waves
.
She also had a blast digging deep holes with Ma-ma
.
Natalie seemed to enjoy it all but was still really lethargic and due to being SO SKINNY she would get cold really easily but have a tough time warming back up. We got her out there a few times though to get her beach on. haha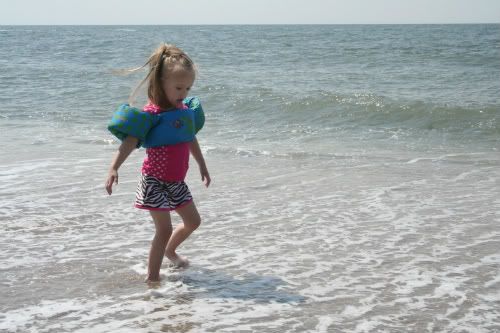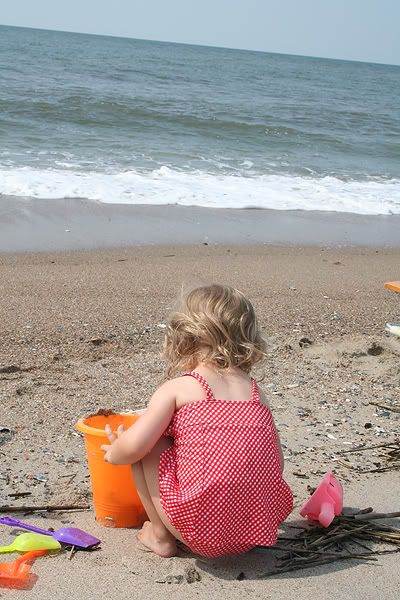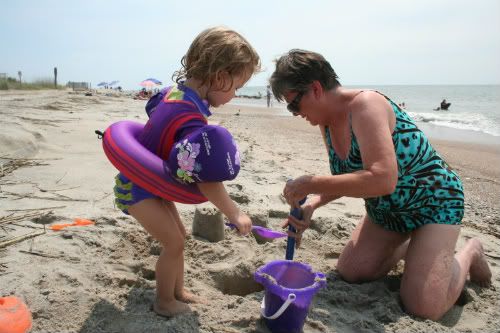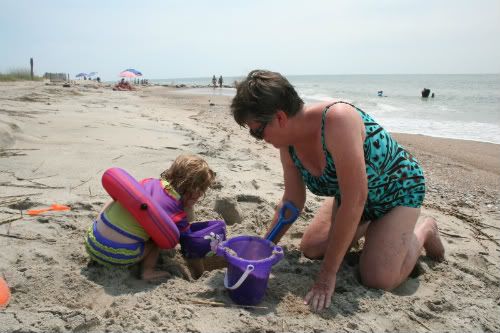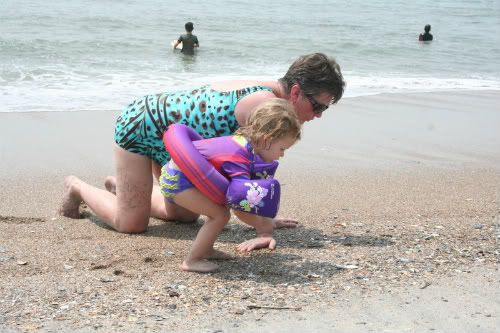 Shell hunting anyone? Why yes, I think I will...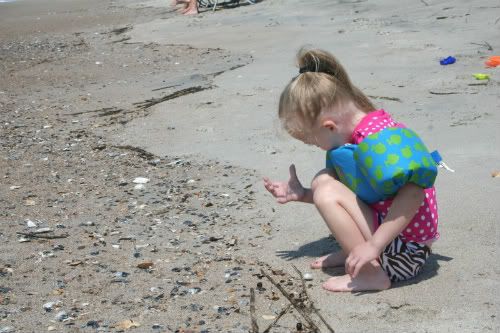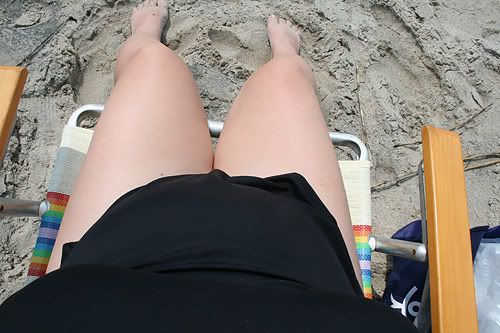 The boys first time at the beach
I love the beach because I LOVE watching all of the cousins together. Growing up all I had was cousins. The closest ones, the ones I saw all the time that are closest to my age, are the ones I consider the nearest thing to siblings I have. Cousins are a big deal in my world. When Natalie was born my thoughts went to "will her cousins treat her well, will they get her, will they understand how to play with her, will they do all of these things because they are told to or will they REALLY get it?" I worried about it, I know she will run into people who don't treat her like a person with real thoughts and feelings in the world....but will she fall behind with her cousins and get left out? I worried, not obsessively but it was always there in my thoughts....waiting for her to get to the age where I would know. Oh how my niece and nephew have made me smile. It literally brings me to the brink of tears to see them cuddle with her and make her giggle..on her level. Sigh of relief...they get it. They instinctively get that she won't play their games the same way that they do BUT that they can find her way and play and enjoy her just the same.
I have mentioned before that Allen holds this special little corner of her heart and always has. There is just something about him that she has always felt drawn to. She would hug and hug him. Seriously, my kid....would. not. let. go. haha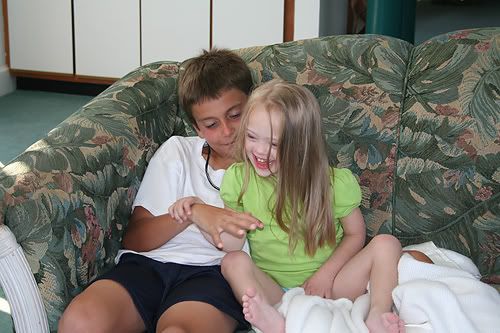 Sara is younger and took a little longer to understand how to play with her. This year Allen as usual was the front runner, the one none of us can compete with. (which I LOVE) but Sara was right behind him as a close second. Lots of cuddles and playing happening this year. Alyssa on the other hand thinks that Sara hung the moon. Big girl? Big girl toys? Playing at a big girls speed? WOOOT! Where ever Sara was we knew Alyssa would be close behind.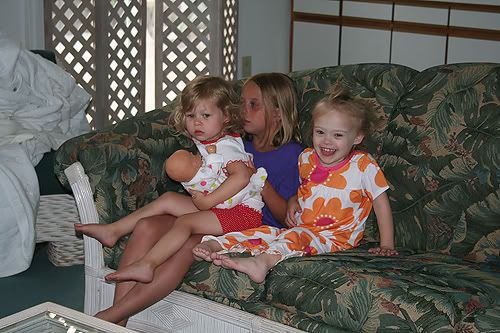 Scroll down for the infamous birthday blog post to Alyssa. I won't go through all of that again but I couldn't leave her party off of this post since she got to celebrate at the beach! Diva style right? She picked out her theme this year. Toy story...are you shocked? hahaha If you know us at all you know that we watch that movie roughly 7 times a week...would be about 3 million but I have to curb it a bit for our sanity. We had cupcakes, presents and FUN! She is so into birthdays this year that she was beside herself with excitement over being the one the party was for.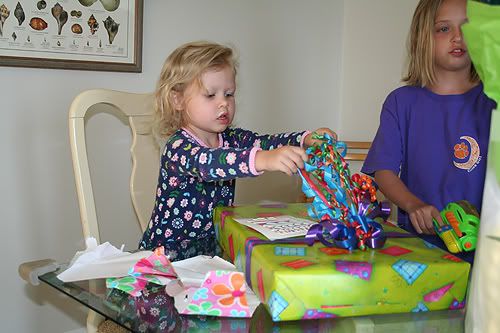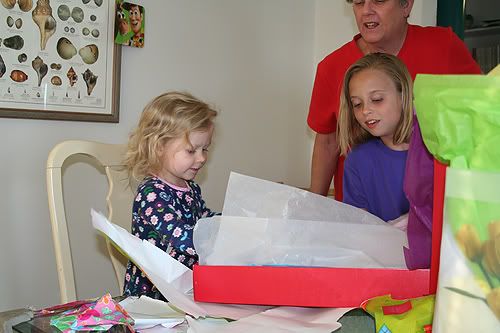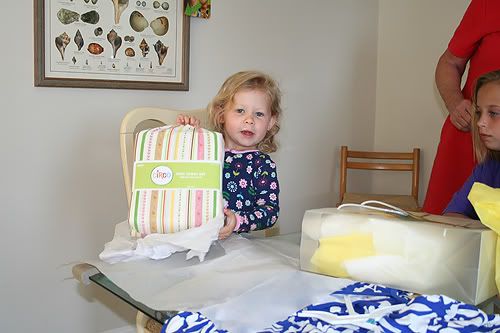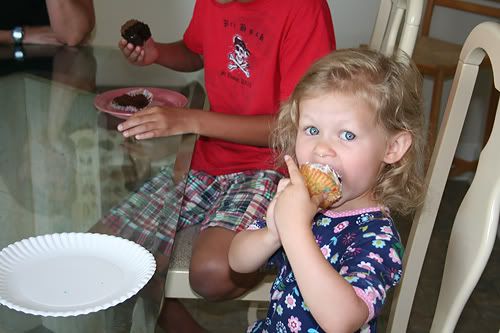 She had soooo much fun opening all of her gifts! She totally cracks me up. Her new thing is to do "stink eye" on command. (thank you honey....your boy is in the making...please step away from the girls haha) I will leave you with a good stink eye today. Have a great weekend!